Presidency and Miyetti Allah?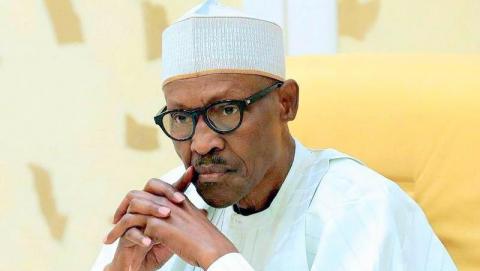 Photo: Muhammadu Buhari
By Yinka Odumakin
THERE is a saying in my corner of Nigeria that accidental fire does not burn somebody twice. But I think that proverb does not capture the fact that not all human beings are wise and therefore there are scumbags who can suffer burn over and over again from the same source.
That is why I prefer another saying from the depth of wisdom of our fathers which says that a war announced ahead does not claim a wise cripple as victim . The endorsement of President Muhammadu for the 2019 election by Miyetti Allah is the biggest test to determine whether Nigerians are totally bewitched or there is a redemptive force at work.
Miyetti Allah is the biggest test to determine whether Nigerians are totally bewitched or there is a redemptive force at work. Lagos residents decry frequent disobedience of traffic regulations by motorists When we went to the polls in 2015 and the "change" mantra filled the air, the only feature Miyetti Allah had was on the INEC form of the Presidential candidate of the APC who filled his  position as the Grand Patron of the umbrella group for cow herders.There was no way for most electorate to know that they were about to install a Miyetti Allah presidency if they chose the APC in the presidential election. The group also laid low in the elections period which made it possible for the accidental fire to burn them. I remember speaking with former President Goodluck Jonathan a few days after the APC  victory was announced and he uttered words that turned quite prophetic which I quote "I am worried about the future of this country. The report I got the night Buhari was declared winner was that traffic rules were no longer obeyed in Abuja.That is a bad signal". Events within a few months showed that the collapse of traffic rules in Abuja was a sign  of the collapse of law and order all over the country. And Miyetti Allah is the worst symbol of anarchy in our country in over three years. Its members have taken lives of thousands of innocent Nigerians and not one of them have faced the consequences . Benue  state is the worst case of what Miyetti Allah Presidency has meant to this county. On the first day of January 2018, Miyetti Allah members killed 74 indigenes of the state in a day. There was national outrage and mourning. An anguished country expected the leadership  to move against the killers. They were sore disappointed. The President could not find his way to Benue to commiserate with the bereaved. Instead, he summoned Governor Samuel Ortom and Benue leaders  to the Villa and issued an Executive Order for them to go accommodate their neighbours (killers)" ."I ask you in the name of God to accommodate your countrymen. You can also be assured that I am just as worried, and concerned with the situation."
Stop blame game, Nigerians need free, fair polls, Adamu tells Buhari The Inspector General of Police who should have arrested the killers and put them on trial said the killers were Nigerians just like Ortom and the murdered". Obviously it is communal crisis, herdsmen are part of the community. They are Nigerians and are part of the community.  Are they not?" The Minister of Defense was not left out of the insensitivity as he said Miyetti Allah members were killing because cattle routes have been blocked. "Whatever crisis that happens at any time, there are remote and immediate causes.  Look at this issue (killings in Benue and Taraba), what is the remote cause of this farmers' crisis? Since the nation's independence, we know there used to be a route whereby the cattle rearers take because they are all over the nation. If you go to Bayelsa or Ogun, you will see them. If those routes are blocked, what do you expect will happen? " Emboldened by the covering from its Presidency, Miyetti Allah started giving conditions for peace to reign in Benue  and justifying the killings of defenseless citizens because harsh laws were passed against open-grazing of cattle. They became a total outlaw and at a point hardly a day passed without reported killings by their members  across the country. The latest Amnesty  International report has traced over 3,600 deaths to members of the group. The respected former President of Nigeria, General Yakubu Gowon at a point had to call for the arrest of Miyetti Allah over the incessant killings  of citizens and their justification of such, warning that their activities could lead to a civil war.
The chairman of  Miyetti Allah in Plateau State, Muhammad Nuru Abdullahi, responded with crude attack on him. He told  journalists that Gowon was being "disturbed by old age." Abdullahi said, "Gowon is talking rubbish and out of ignorance. He should go back to his old age and see what he did before now. When he was Head of State, Gowon was the person who messed this country up. So, forget about him, old age is disturbing him. "When he said he was advising the security agencies to invite all the Fulani stakeholders and leaders of Miyetti Allah Kautal Hore, what did he mean? Did he mean that they were the perpetrators of the crimes? They were never invited for interrogation and have only lowered the rate of killings across the country as their Grand Patron seeks another four years in office. It is not difficult to hazard what Miyetti Allah will turn to when they are in their final term if the APC should get re-elected. If that happens,the world should have no pity on Nigerians as they would have deliberately chose death over life as they would not be able to claim they never knew what awaited them.
For those in my neck of the wood who are rooting for four more years of killings by herdsmen just to have a spare tyre representing them in government, they should be reminded that all their man could say in the midst of killings by herders was that people should not politicise death. If (God forbid) Miyetti Allah gets a second shot, he would also give reasons why they have to kill as he would be courting them for the 2023 illusion. Our fathers have a saying for Nigeria if what the group has done is allowed another term through their votes: did you not see that the farm belongs to the squirrel when you chose to plant your groundnut on it?
Credit: Vanguard
Publish Date:
Wednesday, 2 January 2019