Playing Politics With Life and Death By Okechukwu Nwanguma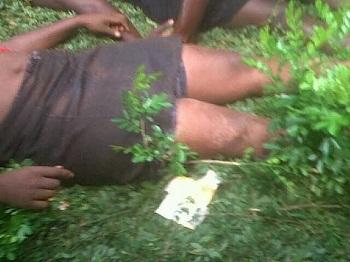 I do not subscribe to people playing politics over the lives or death of human beings. I have read many claims and insinuations about this or that political party being responsible for or having masterminded the tragic death of several worshippers at a Christian worship ground in Onitsha on friday, November 2, 2013.

I have not yet come across any evidence to pin this sad incident on any political party. I therefore, consider it as unconscionable for any one or group to seek to make a political capital out of such a human tragedy.

But ultimately, the greatest responsibility of finding out what happened- with a view to taking necessary and urgent remedial and preventive measures lies squarely with the Governor of the State, Mr. Peter Obi. He is the chief executive and chief security officer of the state.

But given Obi's characteristic laxity and not- too- impressive record of rising to the occasion, each time a tragedy happens in the state, to unravel the cause and ensure justice for the victims, I do not expect much from him this time. This is more so as the Anambra gubernatorial election is at hand. It is only in this context that one can safely accuse Obi of playing politics with the lives of the people he governs.

On the heels of the 2006 bloody crisis between members of the movement for the actualisation of the sovereign state of Biafra (MASSOB) and members of the National Union of Road Transport Owners (NARTO), Governor Obi imposed a curfew, and security forces were drafted in to enforce the curfew. Sadly, the security operatives took license of the 'shoot- at- sight' ordered by Governor Obi to extort, intimidate and kill gratuitously.

This coincided with a national field survey and research on the patterns and prevalence of police abuse in Nigeria which then took me to Anambra state. Medical personnel in onitsha gave me vivid and horrendous accounts of the very high and overwhelming numbers of innocent victims who were brought into their hospitals either dead or with gunshot wounds. Despite several letters appealing to governor Obi to ensure assistance and compensation to the many obviously innocent victims of the excesses of the security operatives, the governor ignored and blocked his ears and heart to the passionate appeals. Many Anambra citizens and residents died for nothing.

Then came the Ezu river scandal. I have already written elsewhere about the Anambra state government's failure and/or neglect to ensure effective investigation to unravel and/or disclose the whole truth about the outrageous sudden discovery of several floating human corpses in Ezu river in Anambra state. I have it on good authority that Governor Obi actually took desperate measures to ensure that the truth about those floating dead bodies was covered up due to political considerations.

I also wrote about Governor Peter Obi's brutish and arbitrary resort to ordering and personally supervising the demolition of properties of people accused- but not yet tried or convicted- of crime in the state, and his use of the SPECIAL ANTI RBBERY SQUAD (SARS) in Awkuzu to commit illegalities and crime in Anambra State.

These issues highlight the tendency by the Anambra State Governor to treat human life and dignity with levity, to circumvent the due process and resort to lawless approaches of governance and law enforcement capable of dragging Anambra state back to the Stone Age characterised by savagery.

Against this background, anyone hoping or expecting that governor Obi will do anything about this recent tragedy of the death of worshippers in Onitsha had better 'wait for godot'.

Attention has since shifted from governance to elections. But I think it is still important that civic-minded citizens keep in focus and sustain public debate on these pending disturbing developments in Anambra State.

If we say we prefer democracy and desire human rights protected by the rule of law, then we must be worried about these many ruthless and antidemocratic policies, actions and mindset of the Anambra State government which impact on public safety, security and justice.