THE HEARTLAND LAMENTATION (A voice heard in Ramah) by George C E Enyoazu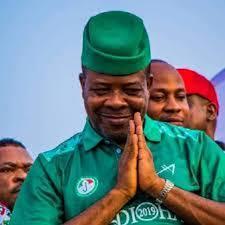 Photo: Rt Hon Emeka Ihedioha
That Supreme Court verdict would be remembered as one of the continued onslaughts and strangulations against Ndigbo. In the Second Republic, Governor Samuel O Mbakwe was arguably the most performing governor in Nigeria. He built 21 industries, roads, provided electricity, water and established Imo State University as a multi-campus institution within four years. Buhari struck in a coup d'etat that removed the Second Republic, and Mbakwe's industrialisation strides ended. Then the industries built by Mbakwe were sliced off by the military regime. To add insult to injury, Mbakwe was jailed for committing no crime.
We have searched and yearned for one who would take us back to the glorious Mbakwe days. Emeka Ihedioha's emergence rekindled a glimmer of hope. Imolites who had groaned under the worst form of incompetence and corruption breathed a sigh of relief. Systematically, Ihedioha began a renaissance that would have given Igboland a name once more. Did you not read it in newspapers that Ihedioha's administration was the least corrupt in Nigeria? Alas! Our detractors were bent on scuttling it. Again!
Buhari used the Supreme Court as he would use the armed forces for Python Dance. We are all victims now, as usual. No one would understand the text of the verdict that made Hope Uzodinma a winner. Hope Uzodinma, a candidate who came fourth in the election promoted to Douglas House without winning the election. This humiliation goes beyond Ihedioha. Ndigbo should cry a river because it's getting worse. Imo people find it difficult to allow this incredibility sink in.
Nigeria is a fraud. I have been to countries, but never came across any like Nigeria. It's obvious that the development of Igboland has been arrested. My heart bleeds for my people. This injustice is one too many. Are we the most unfortunate lot under the sun?
The whole scenario creates misery. It's more than disappointing that we had seen light at the end of the tunnel, only for our expectation to be rudely dashed. Emeka Ihedioha was at the verge of replicating one notable success we can account for - Sam Mbakwe. See how it has been quashed! I mourn for the impending invasion.
This oddity will now normalise the loot of Rochas Okorocha and his cohorts, and open Imo to sustained rape and plunder. In the end, Imo State will be saddled with the burden of the familiar riddle that Ndigbo are their own worst enemies, marginalising themselves by themselves. Yet no one would be brave enough to mention that the hand is Esau's, while the voice is Jacob's. God will never abandon his people.
© Chief George C E Enyoazu.
Publish Date:
Thursday, 16 January 2020