Corona Virus Has Exposed General Buhari as an Audio President by Reno Omokri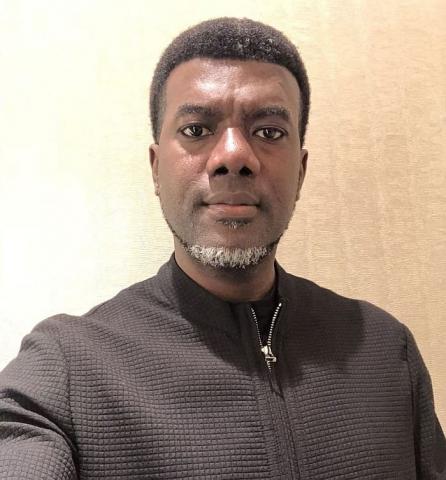 Photo: Reno Omokri
Daily, both US President, Donald Trump, and UK Prime Minister, Boris Johnson, personally address their people to say what they are doing in real-time to end the CoronaVirus. In Nigeria, General Buhari met with the Governors elected on the platform of the All Progressive Congress on March 17, 2020, with one topic on the agenda - Oshiomole. The crisis within the APC was more important to Buhari than the crisis facing the nation and the world.
On Thursday, March 19, 2020, the situation in Nigeria escalated dramatically. There were five new cases the previous day and 4 cases on that day. There was one death in Ekiti state. Nigeria has little or no national apparatus to test for the CoronaVirus, meaning that we have a multitude of people walking around with the virus, unaware that they have it. And yet, General Buhari has still not addressed the nation.
Do note that on February 26, 2015, General Buhari said, and I quote "I will lead from the front." Is he leading from the front? Of course not!
Instead, he is hiding in Aso Rock. Meanwhile, President Trump continues to spend one hour EVERYDAY briefing the American people on what his government is doing to stop the virus and taking questions. All the leaders of G-7 nations are doing something similar. Does Nigeria have a government?
General Buhari refused to fix Nigeria's healthcare sector because he thought he could always selfishly fly to London for his healthcare. That is why he did not want to restrict flights to and from the UK. That decision was forced on him by Atiku Abubakar's pressure.
Now that Buhari cannot fly to the UK, what will he do when he needs treatment? His wife, Aisha Buhari, even publicly admitted that there is no paracetamol in the State House Clinic. Nigerians can now see what Buhari's selfishness has caused? It has come back to haunt him! Now, he is stuck with the people he refused to help! What if he has an emergency?
Go on General Buhari's Twitter profile. In the past one week, he has tweeted about the Argungu Fishing Festival and a science expo. This man, who is meant to be the leader of 200 million people has tweeted absolutely NOTHING on #CoronaVirus as at Thursday, March 19, 2020. No reassurance. No direction. NOTHING! Trump, Boris Johnson, Macron, Sheikh Mohammed bin Rashid Al Maktoum, Cyril Ramaphosa, and Atiku Abubakar, have tweeted almost daily about the Corona Virus. But we have only a loud SILENCE from General Buhari!
And this lack of urgency or a sense of responsibility is why many Nigerians are not taking adequate precautions in the wake of the crisis.
The other day, a school sent scores of unprotected children to Nnamdi Azikiwe Airport on an excursion. This is coming at a time many countries, including the USA, UK, France, Germany and Canada, are closing schools.
How can a school allow school children to go on an excursion visit to the airport at such a time when the coronavirus is now a global pandemic? The short answer is because they have no leadership, and where they have no leader, a people perish.
And how could FAAN have allowed this to happen? Heads must roll. This action has put lives at risk. But when the head is stinkingly rotten, what can the body do?
‪Those children and their teachers, and the head honchos at FAAN, along with the rest of Nigeria are rudderless. General Buhari is sleeping on duty!
But come to think about it, how can you trust a Nigerian government that publicly said "Coronavirus is caused by corruption" to handle the COVID 19 outbreak? I am not joking. This government actually said so! Please Google it yourself.
I believe that the reason General Buhari delayed in restricting flights from COVID 19 high risk nations is because HE Atiku first suggested it. Buhari is so petty that he did not want Atiku to get the credit. This was about ego. Buhari must drop his ego and do the right thing to save lives!
How could you close your border for rice and open it for coronavirus and have the audacity to call yourself a leader? If COVID19 had killed your citizens while you were dilly-dallying, who would have eaten the rice you are protecting? Are rice and fuel more important than the human beings who will buy them?
The truth is that the COVID 19 incidence has further exposed General Buhari as a naked emperor. An audio President. A lidder, not a leader. A man who is celebrating Argungu festival and plotting to save Oshiomhole, while coronavirus is penetrating his country.
In everything, this man shows that he craved power for 12 years, and when he eventually got it, he does not know what to do with it. Scores of people die from explosions in Lagos, he looks at photos. Coronavirus ravages, he hides in Aso Rock.
Sadly, General Buhari has self-isolated from governing Nigeria. He has socially distanced himself from Nigerian citizens. He has washed his hands of our challenges. Instead of running away from the CoronaVirus, Nigeria's President has ran away from Nigerians when they need him. In my humble opinion, it is better to have no leader than to have a leader like General Buhari.
You can imagine Buhari slamming his own handpicked Senate leadership for asking him to address the nation, like other leaders are doing! Don't they know that he is just a window dressing? How dare the Nigerian Senate compare him to US President Trump? Were they sleeping when Trump called him "lifeless"!
And the annoying thing is that Lai Mohammed had the guts to say '‪President Buhari will address the nation when the time is right'.
‪12 corona virus cases confirmed in Lagos. 1 death in Ekiti. Suspected cases in multiple states, and the time is not right? When is the right time? Is it until election time? It is an embarrassment to continue to call this man a leader. President Trump was right. The man is 'lifeless', compassionless and directionless. What sin did Nigeria commit to deserve this plague as a pretend leader?
‪Now we know why General Buhari has no direction. He is surrounded by advisers who themselves lack direction. 2 days ago (March 19, 2020), Garba Shehu pleaded with Nigerians to obey instructions from the National Centre for Disease Control on the coronavirus, one of which is social distancing. Today, (March 21, 2020), Garba Shehu is himself flouting those instructions he begged us to obey, by holding a conference and inviting the public to attend! Do you now see why Nigeria is retrogressing under this regime?
‪Visionless and directionless sycophants surround this quota-system General. When the blind leads the blind, they both fall into a ditch and take the country down with them!
No wonder the United Nations just released Human Happiness Survey rates Nigeria as one of the most miserable places on Earth. ‪We are not even included in the 100 happiest nations. To put things into perspective, Nigeria was the happiest nation on Earth bar none in 2011, under then President Jonathan in the survey by Gallup Polls. In the survey released today, we are not even in the top 100. Think about that. Think about that deeply.