Buhari's Dilemma in Choice of Running Mate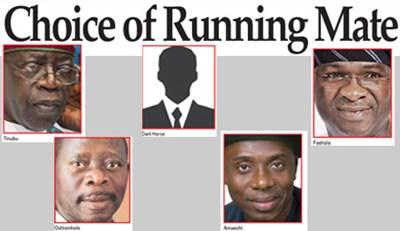 To face president in rematch, PDP derisively welcomes him to the race 
Atiku concedes defeat, congratulates ex-head of state
Chuks Okocha in Abuja, Onyebuchi Ezigbo and Shola Oyeyipo in Lagos
Following his landslide victory on Thursday to emerge the presidential candidate of the All Progressives Congress (APC), former military Head of State Major-General Muhammadu Buhari, will be facing his biggest test in the next few hours, as he would have to pick a running mate from a roll call of prospective vice-presidential hopefuls.
Buhari, who by his win at the APC convention has set up for a rematch against President Goodluck Jonathan of the Peoples Democratic Party (PDP), got 3,430 votes to beat other contenders for the presidential ticket of the main opposition party.
Surprisingly, Kano State Governor, Rabiu Kwankwaso edged out former Vice-President Atiku Abubakar, who was favoured to give Buhari a serious run for his money, to second place by securing 974 of the votes.
Atiku came in third with 954 votes, Imo State Governor Rochas Okorocha scored 624 votes, while the Founder of Leadership Newspapers Sam Nda-Isaiah, got 10 votes only.
But with his victory behind him, Buhari, THISDAY learnt, has refocused his energy on picking a running mate, as whoever he selects could make or mar his bid for the presidency.
Towards this end, a party source informed THISDY that chieftains of the APC and Buhari met last night in Lagos to assess possible hopefuls and decide on a running mate for the former head of state.
Although the outcome of the meeting could not be ascertained, major contenders for the post include former Lagos State Governor and a national leader of the party Bola Tinubu, who has stubbornly refused to step down his ambition despite the strong opposition within APC to a Muslim-Muslim pairing.
Another major contender is the Rivers State Governor Chibuike Amaechi, a Christian from the South-south zone, who has been a major financing and logistic supporter for Buhari to square up against Atiku and other contenders for the APC ticket.
Amaechi, who has never hidden his desire for the vice-presidential slot, was also instrumental in the outward transformation of Buhari, from a light-blue agbada wearing, stodgy, elderly retired army general, to an urbane, bespoke suit-wearing, spritely man eager to keep up with the Joneses. How much of this metamorphosis is skin-deep will be evident in the weeks ahead.
For Amaechi's efforts, Buhari's key advisers are believed to be canvassing the vice-presidential slot for him and is seen as the frontrunner for the post, but it is uncertain if he has the support of Tinubu, who also wants the position for himself, and has recently made himself inaccessible to the Rivers State governor for daring to oppose a Muslim-Muslim pairing.
Also thrown into the mix is Lagos State Governor Babatunde Fashola, who on the basis of his track record in the saddle should be the frontrunner for the job. Buhari is said to like him very much as one he can leave the affairs of state in his hands, just has he did with Tunde Idiagbon, his then number two when Buhari was military head of state.
However, like Tinubu, Fashola is a Muslim which complicates the issues at this time of tensions between Christians and Muslims in Nigeria.
Another possible choice is Edo State Governor Adams Oshiomhole, who unlike Amaechi, has been more discreet in composure and utterances.
Oshiomhole, a Christian from the South-south geopolitical zone, a man of the people, and ideologically, a true progressive, has in recent days been mentioned as the most suitable choice for Buhari, if he is looking for a compromise. But will Buhari put at risk the vote of the South-west?
Then there are the dark horses in the persons of former Ekiti State Governor, Dr. Kayode Fayemi and former Lagos State Minister of Justice and Attorney-General of Lagos State Yemi Osibajo.
Although both men are Christians from the South-west, they are not household names and it is uncertain how much electoral value they would be adding to the Buhari ticket.
Earlier yesterday, the National Chairman of the APC, Chief John Oyegun, while speaking on the conduct of the primary in Lagos, said all the aspirants were winners considering that they all accepted to work together as a team towards actualising the party's presidential goal.
He said APC had, by successfully holding the presidential primary, shown that it was ready to drive change in Nigeria.
In his acceptance speech, Buhari said the outcome of the presidential primary was a demonstration of democracy in action.
Buhari, who drew loud cheers from the delegates when he mounted the podium to deliver his speech, pledged to build a new Nigeria where insecurity, corruption and ethnicity will have no place.
"What has happened is not about winning or loosing, it is about freedom of association. I wish to thank my contenders for putting up a good fight. I extend my gratitude to you for accepting my nomination and I will meet you in due course to fashion out how we will win the election.
"It is with a deep sense of humility to be the standard-bearer of the APC. I stand before you and ask that you join me to bring the needed change for this country. It is either we advance as one or we fail together," he said.
Atiku, while congratulating Buhari for emerging victorious in the keenly contested primary, assured him of his backing.
The former vice-president in a Twitter post said: "Congratulations General Buhari. The delegates have spoken, you fully deserve the victory."
Also, in a concession statement by his media office in Lagos yesterday, Atiku said Buhari ran a spirited campaign, and since the delegates had spoken, he fully deserved the victory.
The statement added: "I am very confident that you will provide the needed leadership to turn this country around. I have no doubt that you will work with dedicated and qualified Nigerians to protect our citizens, improve our economy, create jobs, improve education, reform governance and fight corruption. You will indeed bring the change Nigerians have been yearning for. Once more, congratulations."
He also congratulated the other contestants for demonstrating their commitment to democracy by participating in a transparent process and campaigning vigorously across the country.
He pledged his commitment to the APC and promised to campaign vigorously for Buhari and all APC candidates to ensure victory in the 2015 elections.
On his part, Kwankwaso said he was ready to support the winner in the pursuit of the party's quest to win the presidency.
"I want to start by thanking God for making me part of history. On behalf of myself and especially the delegates that voted for me, I want to congratulate the winner of this primary General Buhari."
Like Atiku, he promised to work with Buhari and for the success of APC at all levels.
Okorocha said the hotly contested race had shown to the world that internal democracy is possible in Nigerian parties.
"The responsibility falls on the shoulder of General Buhari. I believe it is God and it came to him because he is the eldest of the family. And I believe the next one will go to the youngest of the family. There would not have been this competition if all of us had not contested. We have now taught the world that internal democracy begins in a party," he said.
With Buhari's emergence as the presidential candidate of APC, the leadership of the party said it would submit his name to the Independent National Electoral Commission (INEC) today.
A reliable top party source told THISDAY that shortly after the convention drew to a close, Oyegun and other party leaders met to put the finishing touches for the submission of Buhari's name to INEC.
Meanwhile, shortly after he was announced the candidate of APC, the ruling PDP yesterday welcomed Buhari to the race.
In a derisive statement by the National Publicity Secretary of PDP Olisa Metuh, the party described APC as Tinubu's party, adding, "This will be the fourth time General Buhari will be contesting in the presidential election.
"On each of the three previous occasions, he failed to articulate a vision for the future that was acceptable to Nigerians. On each occasion, his brand of politics was rejected across Nigeria.
"Apart from changing to a dinner suit, General Buhari has not changed the tired ideas and provocative utterances that Nigerians rejected in previous elections.
"We hope that this time round, General Buhari will conduct a campaign that is issues-based and devoid of ethno-religious sentiments.
"We are convinced that the Peoples Democratic Party (PDP) remains the only truly national political party in Nigeria, a platform on which all Nigerians can pursue their legitimate aspirations.
"We also believe that despite the distractions, President Goodluck Jonathan has a genuine record of accomplishments on which to run and deserves a second term.
"President Jonathan's re-election will guarantee unity and stability for Nigerians. His second term will also deliver prosperity to Nigerians.
"Finally, in the words of our own president, 'The choice before Nigerians in the coming election is simple: A choice between going forward or going backwards; between the new ways and the old ways; between freedom and repression; between a record of visible achievements and beneficial reforms – and desperate power-seekers with empty promises'."
Source: ThisDay